Many northern towns have terraced streets with narrow cobbled rear access roads. When Drain Alert Ltd of Hoghton, Preston was asked to investigate a damaged 100mm private connection into a 225mm public sewer in one of these cobbled entries, an excavation to 2m deep was considered impractical.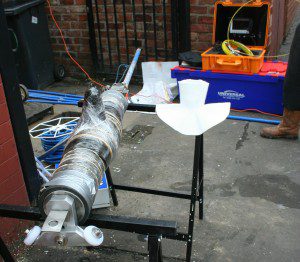 Stephen Ormisher contacted Graham Evans of E R Technical Services for advice on the problem. The agreed solution was a 'Top hat' repair resulting in a smooth transition and strengthening of the inherent defect.
Drain Alert attended site and assisted with the installation which was successfully completed in hours without any disturbance or difficult excavation. Drain Alert was very pleased with the standard of the repair and are adding this system to their range of no-dig solutions. Stephen Ormisher of Drain Alert commented "This is a very effective system that will be an ideal solution for many of our commercial clients".
Drain Alert Team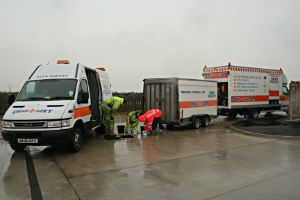 E R Technical Services are currently promoting this technique as one of their proactive new products and have already assisted clients with connection problems on 150mm lines with 100mm and 150mm connections.