Our preferred Sewerage Treatment Plant option for residential, commercial and industrial situations where there is no access to a mains sewer is the Matrix Treatment Plant. This provides an extremely efficient, reliable and cost effective solution to sewage disposal. With the imminent implementation of mandatory legislation, the MATRIX treatment plant has undergone extensive independent testing in accordance with EN12566-Pt 3 making it fully compliant with the New European Standard. It is important to note that the new standard relates to all units in the range from 6 person (residential equivalent) to 50 person (residential equivalent) and includes for process and structural testing, including installation in groundwater conditions.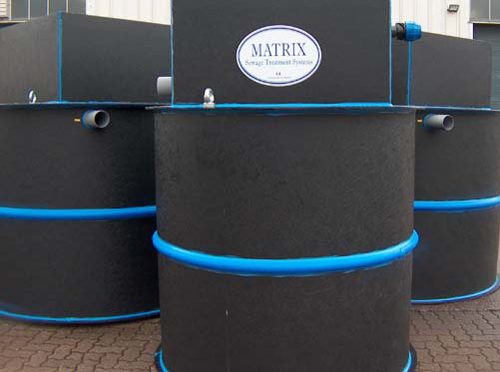 PROCESS
The Matrix treatment system is a three stage biological process contained within a single tank structure, based on the principles of a submerged bed reactor and designed in accordance with the requirements of BS6297. Careful configuration of the internal flowpath and the inclusion of non-mechanical recirculation systems ensure optimal process performance as demonstrated by the exceptional results obtained from independent testing, providing complete peace of mind for the end user. There are NO electrical or mechanical components within the treatment plant thereby eliminating the need for specialist servicing arrangements ensuring that any maintenance requirements on the MATRIX system are kept to an absolute minimum.
It is important to note that the Matrix achieved market leading results and as part of the test procedure was proven to have one of the lowest operating costs.
The Matrix treatment plant is a very tough impact resistant tank with outstanding performance, exceptional effluent quality and is designed to cope with the rigours of service for a lifetime. Its main features include:
Industrial grade propylex body with high impact resistance
Stable base for stability and ease of handling and storage
Compact design for easy handling and installation
Deeper invert depths can be manufactured, if required
Deeper invert depths can be manufactured, if required
Reduced excavation depth
BS EN 12566 & PT3 (tested and certified to the new European Standard)
Average performance rating up to 97% efficiency
BOD, SS & NH4 up to 98.8% efficiency based on maximum individual results
Failure alarm systems as standard, not as an additional cost
No mechanical or electrical parts in the plant
No visual intrusion. Flat, flush ground covers suitable for 1 tonne load.
Low running and maintenance costs.
Simple non specialised maintenance
Robust Polypropylene construction for easy and cost effective installation
Single tank unit up to 300pop
CE certified
Homeowners will have to upgrade or replace any septic tanks that discharge directly into a water course from 1st January 2020. This change is being applied under the General Binding Rules. Not everyone who owns a septic tank will need to take action; if you already have a soakaway to a drainage field which functions effectively, then you will be operating within the law. But if you have a Septic Tank that discharges directly into a ditch, stream, canal, river, surface water or drain then you will either need to replace the tank with a sewerage treatment plant or create a drainage field that meets the current British Standard BS6297 2007. Of course if you are near a mains sewer, then that could be your first choice. We can provide free advice on your options. Unfortunately these changes are not optional and you wont be able to sell your house after January 2020 if your septic tank is not compliant.